The sun has finally decided to put in an appearance this summer, but it's not the only thing that's shining round here! We've given iAM Compliant a shiny, brand new look – if you close your eyes you can even get a hint of that new car smell…
We've updated the look of your dashboard so it's even simpler to get a quick overview of what's going on across your organisation. Like all of the best things in life, it's even colour coded. Anything blue will give you information; you can see the number of open jobs, overdue planned tasks, or for a more in depth look you can print a health scorecard for any of your locations. Anything purple will show you if you have things you need to read and review; risk assessments, policy documents, or bulletins. Anything green will take you straight to an action; you can raise a one-off job, report an incident, take an online course, or write a risk assessment.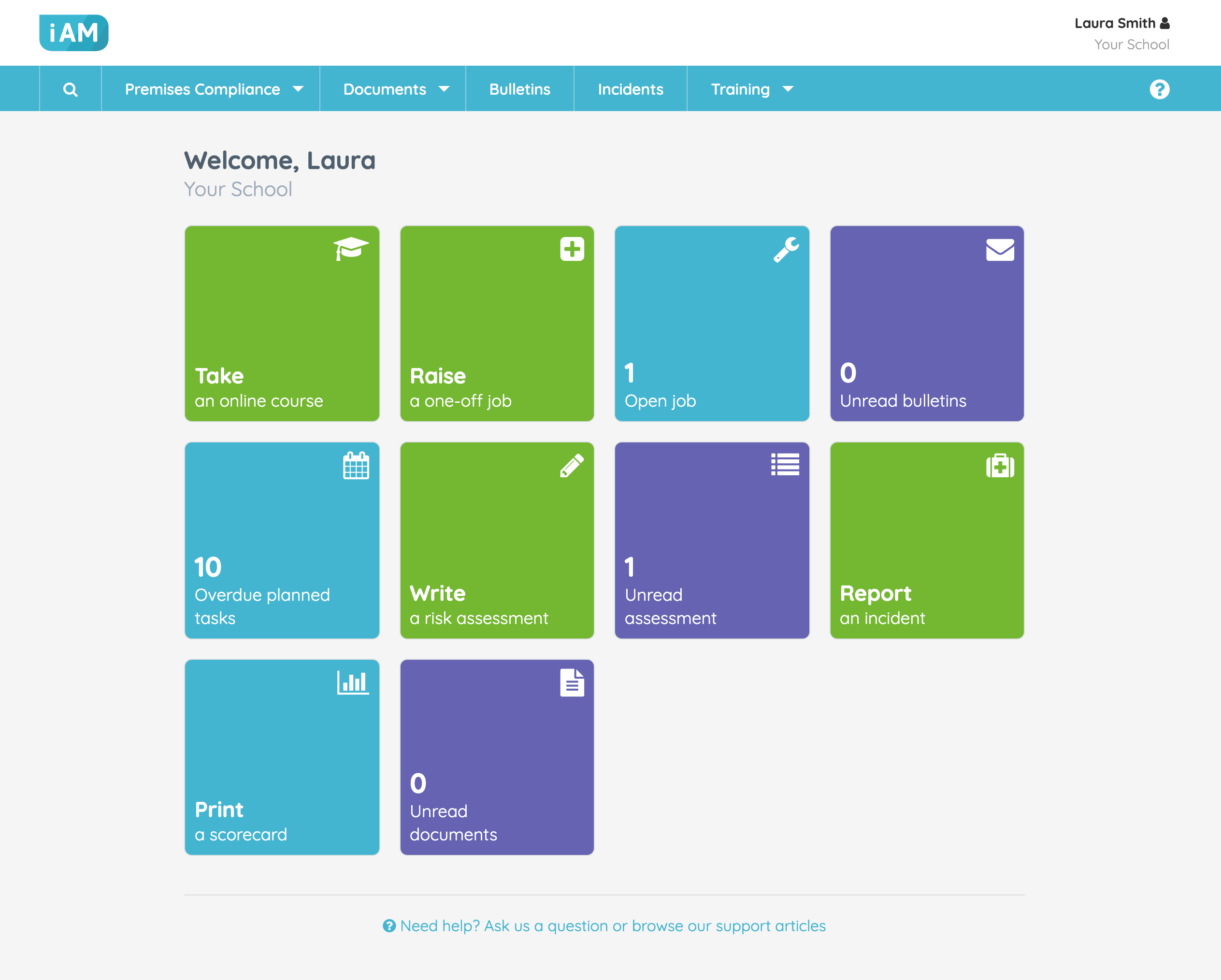 We've also made a few improvements for those of you managing multiple locations with your iAM accounts. You can now easily compare the compliance scores of the locations across your organisation by running a compliance report from the locations page and you're also now able to define different zones within your locations to help you specify more precisely where things are happening.
That's not all though, we've also been busy using your feedback to add extra features to help make the job of keeping your premises compliant even easier.
Bulletins
Emails are useful for sending messages that all your staff need to read but keeping tabs on who has read your email can be very difficult. Sending a bulletin in iAM allows you to do this without having to leave the site or going into other apps. It's really quick and easy to use; add a subject line, just like you would if you were writing an email. Write what you need to let your colleagues know in the message box, if you would like to add further information, such as a picture, or a document, you can attach a file here as well.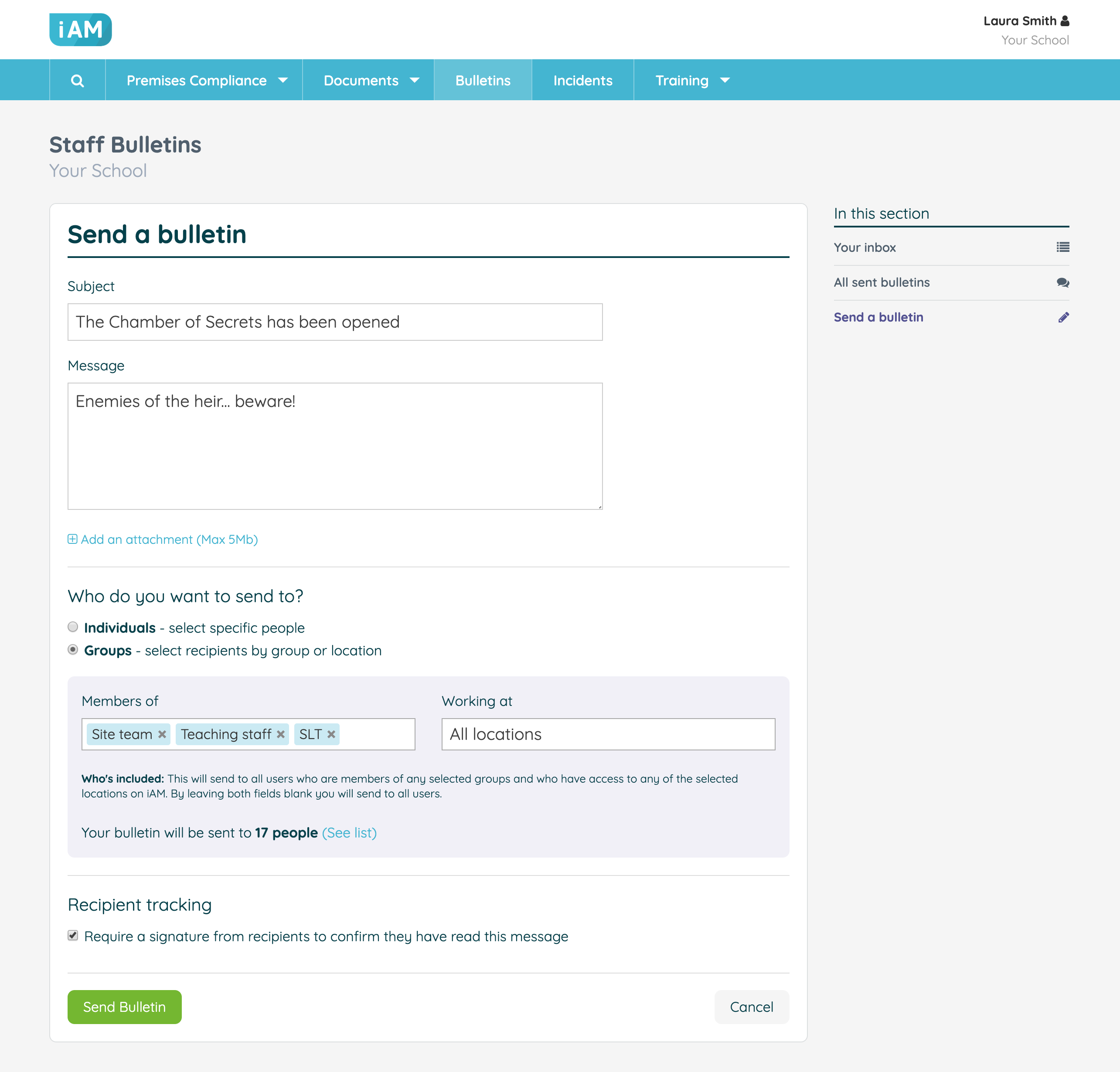 Now you just need to decide who needs to see your bulletin. You could send it to all of the users in your organisation, or members of specific groups that you have set up. If you haven't set up groups yet, head over to your account settings. If you need to keep track of who has or hasn't seen your bulletin, you can tick the box to turn on read receipts.
Now you can crack on with your other important jobs while those read receipts come rolling in. You'll be able to see a list of people who have and haven't read your message.
Incidents
Sadly we're yet to come up with a way to completely eradicate accidents in the workplace, and keeping track of accidents and illnesses is an important HSE requirement. Don't let that worry you though – we've got you covered! You can use our new Incidents area to record illnesses, accidents, near misses, and any other safety observations you come across to help you improve your premises safety before an accident happens. You can even record details of any investigations that you carry out into each incident to show how you are acting to prevent a re-occurrence.
Just tell us where and when the incident happened, what kind of incident it was, and a few key details about the person involved and what happened. We know that confidentiality is important for these records; keeping them here in iAM means you don't have to have paper copies making keeping confidential things private really straightforward – only account administrators will be able to view completed reports.
Once your digital incident book starts to take shape, you'll be able to filter the records by location, type, severity, progress, or date. You can also download anonymised data for analysis in a csv file to help make identifying accident hotspots a piece of cake!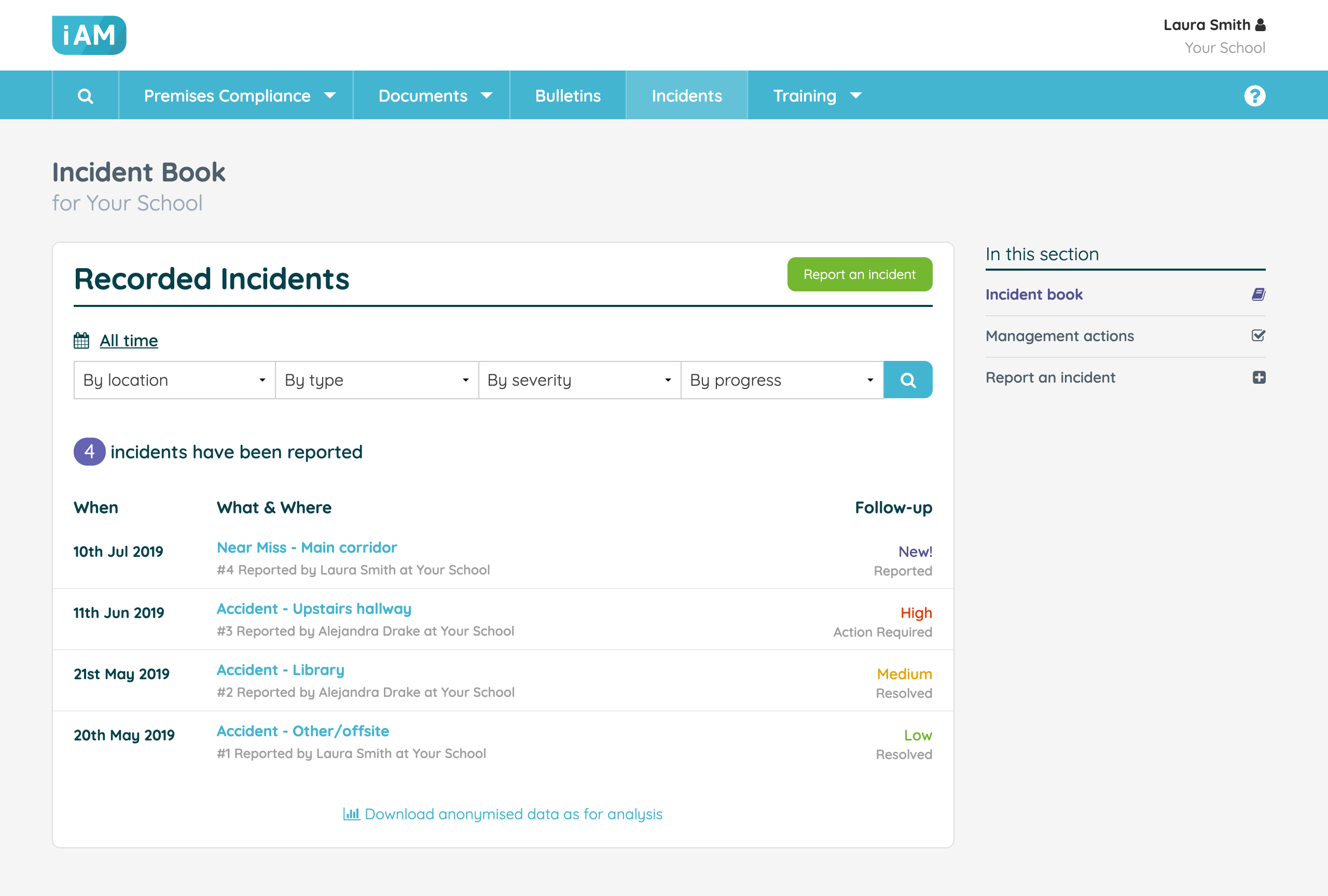 Got a bright idea?
If you've got ideas for how we can make iAM even better for you and your business, or if you'd like a refresher on how to make the most of the system, please don't hesitate to contact us via support@iamcompliant.com.